To submit a comment, please fill out this form at the bottom of the screen, and I will post it on this page! Thanks! :)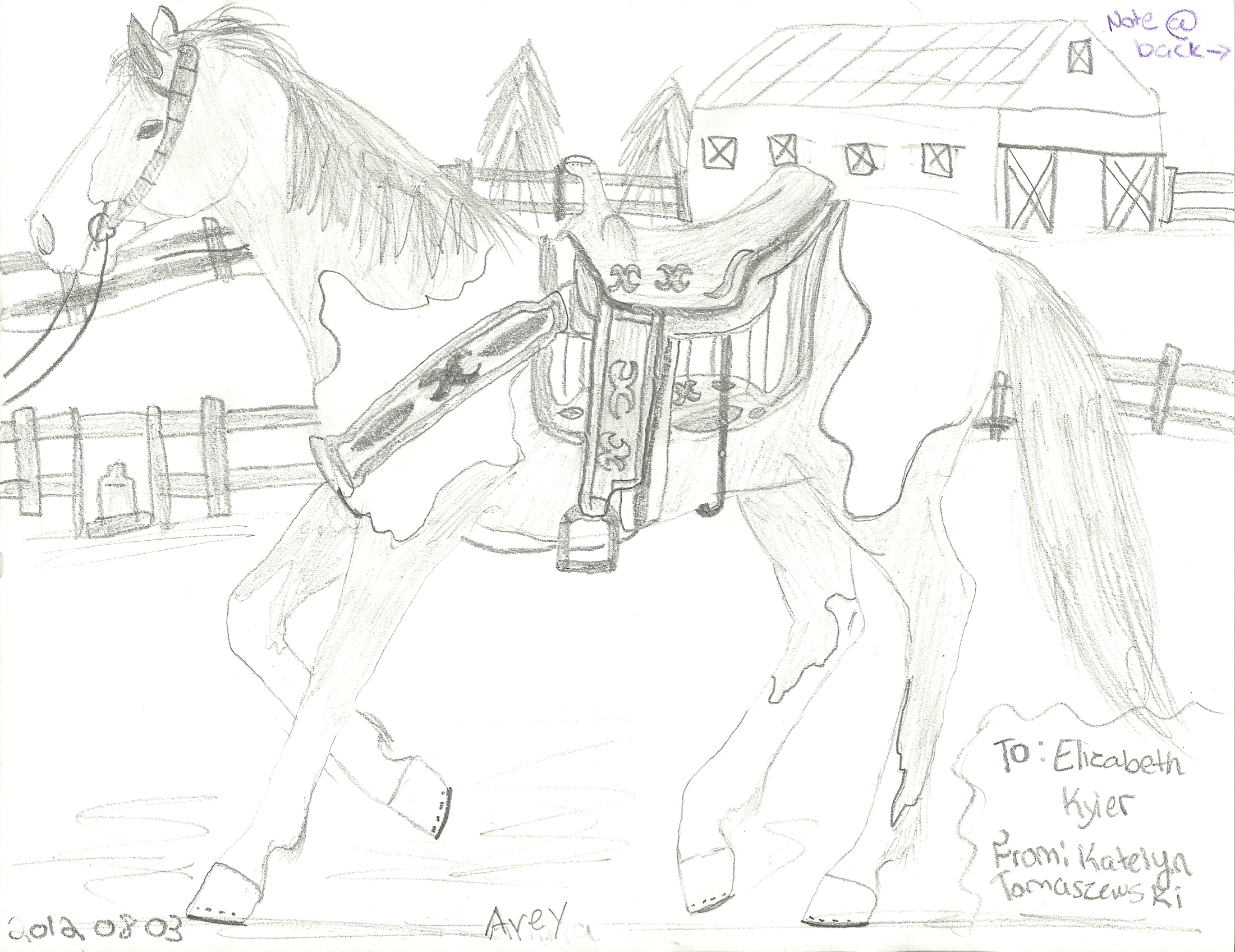 Full Name: Kianna McDiarmid
Comments: Absolutely in love with this camp! Every time i go there, i feel safe and always have fun. Beth is an amazing instructor and has taught me so much in the past 4 years i've been there. The girls there are always super nice and there are 2-3 other co instructors there that also help out! love the meals, games, and bon fires! i get sad every time i leave because i have bonded so much with the other girls. i cannot wait to come to camp this year!

Full Name: Morgan Kuss
Comments:I really love this camp! This summer will be my 3rd time going and i cannot wait! Beth is so nice, same with her family. I'm so glad I found this camp and got the chance to go to it! If you want a friendly camp to go to I definitely recommend this one! :)

Full Name: Cori Kuzyk
Comments: We took our daughter Vanessa to this camp, after she as a horse crazy teenager researched all the camps. My first reaction is find something closer and what do we know about this place. At the time I was a bit hesitant and contacted some real horse people as I don't know one end of a horse from the other.This lady, Elizabeth, came with high regards from some of the crankiest of people and I could see why after. My daughter was drawn to The Love of a Horse as it was of few that you could take your own horse. OK, she is my only daughter and can get Dad to give in. So with that, hesitantly I paid money online after discussion with Elizabeth and hoped for the best. We took our girl and her horse down and dropped them off at what impressed me was a real family farm. Ok, I guess when we come back we would see how her week went. We never heard from our child and thought I guess we will see when we pick her up. Vanessa absolutely loved it, and really! got to bond with her horse and learn together! She had the highest regards for this camp and the family running it. I say this as when we picked her up, her parents were even out to greet everyone as they got to spend time with all these kids as well and got to know and watch them learn. At the end they held a great show to let the kids showcase their skill and enjoy the riding with all of us to watch. It was awesome! By the time we left, I felt like part of the family as well chatting with them all sharing treats they had for the kids and us. I don't believe anyone would be disappointed in going there and I know my daughter will be attending again and again. I thank you Elizabeth and your folks for giving Vanessa a wonderful experience and welcoming us all to your home on the farm. I am not much of a writer but if I could ever tell anyone about Vanessa's and our experience, they would understand the positive experience it can be for the kids. All the best with your farm, ! family and your camp, The Love of a Horse, cheers.
Comments: I haven't ridd3n a horse in a reaaaallly long time and was excited to get back into the saddle. I was worried about riding again because it was so long ago that I did. Elizabeth made this camp so easy and fun for me, I had a great time with the lessons, trail rides and even the dinners and downtime. She was super patient with me, because I literally know nothing, and made it a memorable experience. Can't wait to come again.
Comments: i have been to Beths camp for 4 years and i honestly LOOOVVEE beths camp AND Beth, I've meet many wonderful, people many of which I am still good friends with <3<3<3<3
Comments: Beth has taught me so much in the past two years. She is an amazing rider, coach, trainer and PERSON!! She's helped me become a better jumper, and also helped me ride my horses better. At shows, she helps me have confidence throughout the day, and I definitely wouldn't have come as far as I have without her support. Love you Beth!! <3

Name: Makenna Mitchell
Comments: Beth, thank you for the awesome year at camp last year. i am looking forward to aug. camp. you are the best instructor ever!! :)

Name: J'Nell Perkins
Comments: Thanks a million for the camp. She had an awesome time and has been so much more confident on her horse, she even cantors out in the field now! Thanks again for the camp.
Comments: Hey, Looks like lots of fun! I see lots of familiar horses and sad to see some of the others that have passed. Its great to see their success stories thanks to Beth who is just starting to write her own success story. The website looks great. Wish you the best of luck in the future Beth.
Comments: thanks 4 everything Beth i really enjoyed the camp and seeing Emily and maria again was so much fun! and u have to train aurora some time 4 me and and ya !!!! Thanks so much i learned so much about the horse and the test u gave us and the jumping cause that was her second time jumping and she went over all of them! wow ! ya thanks so much 4 providing a stall 4 me and stuff thanks!
Thank you for everything. The March Clinic was a definite bonus to Wylee and I. I learned so much and now have a horse that I know respects me and gets on a trailer without the two hours of rearing and what not! I am looking forward to returning for some round pen work and to just visit.
You are so talented and will go far. Thanks again and see you soon.
Anyone thinking of doing the clinic should just do it - they will be amazed at the progess they can make in just two short days. It has changed my relationship with Wylee. You rock!
Comments: I had a great time at the clinic this march! I learned more about my horses body language, and her general trust of me. I cant wait to come back for a visit ;)Our group was just fabulous and easy going.
Comments: Beth is a VERY talented individual. She can read and understand a horses body language better than anyone I know! My three year old horse wouldn't go into a trailer, after just one round-pen session he was walking in and out like a pro. She showed me how working from the ground up builds confidence and trust. She taught me how to gain the trust of my horse, and build an impenetrable bond. After I worked with my horse and Beth, going from ground to saddle was smooth and easy. Thanks Beth for all your knowledge, it will go far in breaking my next generation of colts.
Comments: Beth, you are an amazing person and exceptional with all, but you can understand horses at a level that most could only dream of achieveing! It truly is a miracle what you can achieve with horses and kids. Keep at it and soon enough you will be the best known trainer around!
Comments: This such a great website, and Beth is one of the best riders and trainers I know! She has such a great way with horses, and she works miracles! I would recommend her training and horse camps to anyone wanting to learn to ride, or improve their skills. Great job, Beth!!
Comments: Beth, I watch you with the kids and with the horses.
you are great with both. Patient and kind. the kids loved the camp,
they learned a lot and more importantly gained confidence in themselves and their horses. You truly have a gift.
Comment: I love your horses, their all so unique and beautiful!
Comment: Hey Beth, you are an awesome person! I wanted to thank you for the lessons, they are awesome!
Comments: Thanks Beth for all the fun in my lessons and camp can't wait till august for camp,you taught me so much about caring for my horse and important tips on how to ride safely and have fun. Beth your the best.
Comment: Nice web page, the kids look like they are having lots of fun! You are really busy - do you have time to compete?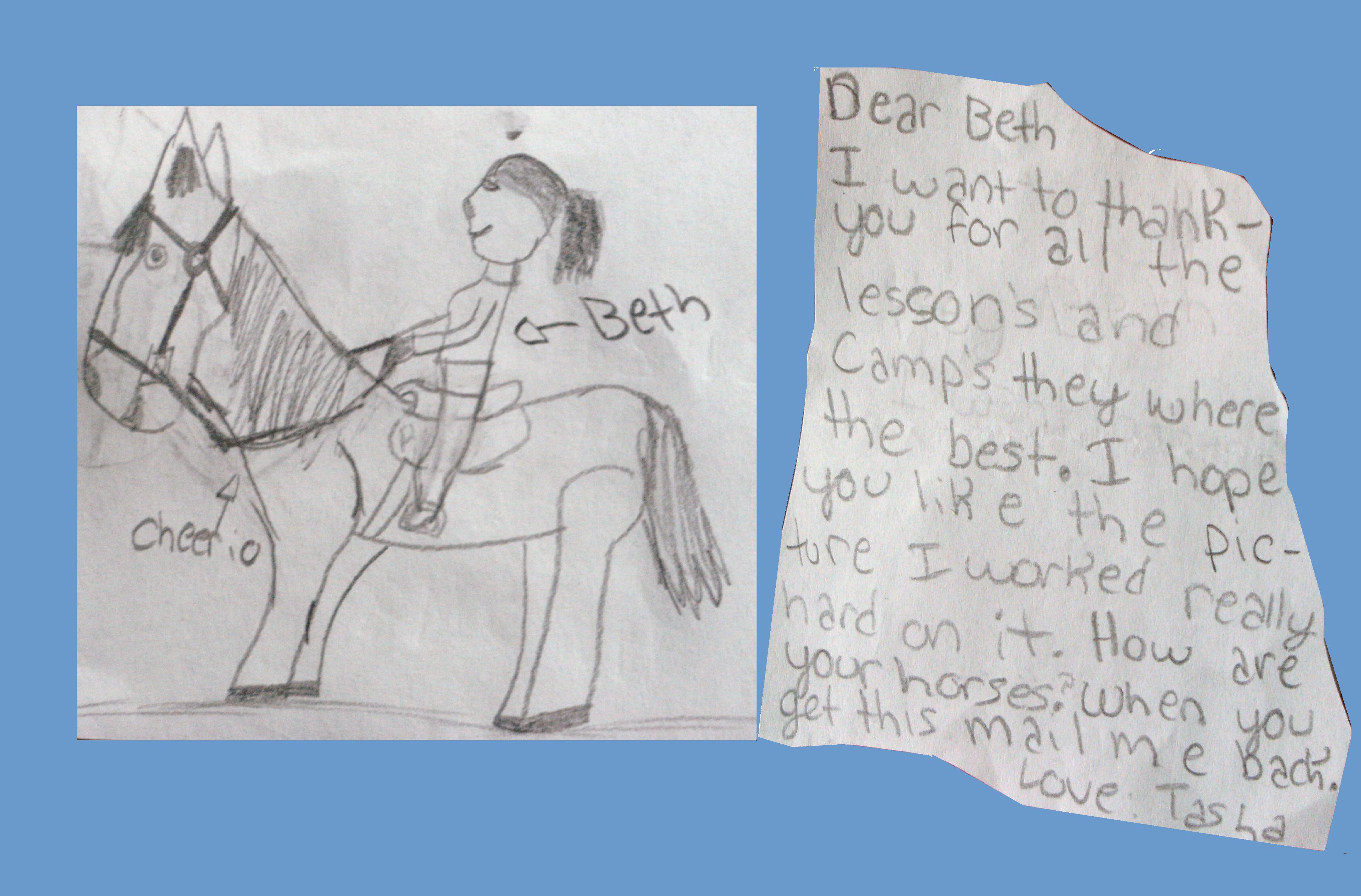 Thank you!!!