Fun Shows and Camps!!!


Location: 9 miles NE of Camrose Alberta
2013 will be our 7th consecutive Running Year of our Summer Camps!

2013 Overnight Camp Dates are set as:
August 5th-9th -Jumping Camp (Intermediate - Advanced riders ONLY. MUST be able to walk/trot/canter, and have at least trained over cross rails.)

Intermediate Dates Coming soon!!
Want to register??? Please scroll to the bottom of this page!
PLEASE NOTE - Spots in camp will only be held once
payment is received. Thank you.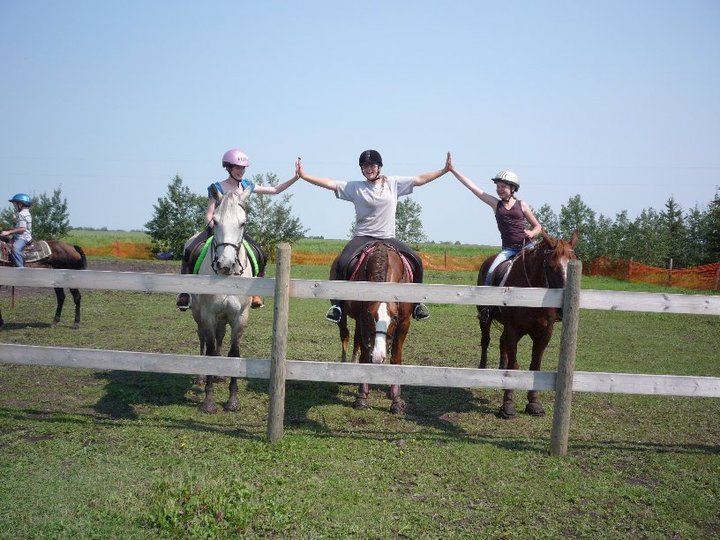 Our summer horse camps are for young riders who have had some previous experience riding. Riders are required to already know how to walk/trot before coming to our camps. Maximum of 10 people at each camp to provide a more one on one experience with the trainers! Ages 8+ welcome! Girls and Boys. Our camps are overnight camps, with ALL meals included. We are now offering camps for ages 18+ too!! Please contact us with any questions!
Activities: We will be playing many mounted games to create balance and more confident riders. Each evening we'll play field games (ie: mission impossible, tag, hide and seek, etc.) There will be 3-5 hours of riding each day! (Weather permitting as we have no indoor) We'll have fires in the evenings and be sleeping in the hayloft where we will watch Horse movies :) Please note - there is NO hay in the hayloft! So if you have allergies to hay, don't worry!

We have horses available for use but we encourage people to bring their own horses as it gives GREAT opportunity to work close with trainers and form a stronger bond between horse and rider. (Horses MUST have shots and be healthy to come to camp)
If you are in need of a horse, please let us know ASAP so we can be sure to accommodate you. (horses will be shared with bigger groups, everyone will get equal chance to ride.). We do both ENGLISH and WESTERN riding.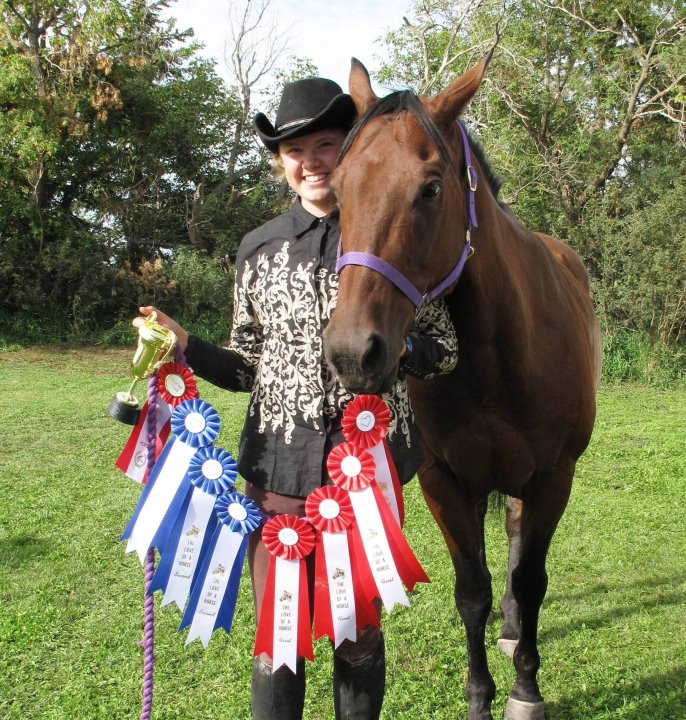 At the end of the camps, there will be a fun show where Rosette Ribbons will be awarded to 5th place! The fun show will be gymkhana events (barrel racing, pole bending, etc.), jumping (just small jumps for beginners, and only if they can.), some of our own inventive show classes, as well as some flat classes! T-shirts and orders for DVD slideshows of camp will be for sale at the fun show - along with a door prize! So make sure to invite family and friends to bring a lawn chair and come to enjoy the fun! Fun Shows usually start at about 1pm on the last day of the camp.
Camp Cost:
$500+GST (DISCOUNTS AVAILABLE for families - please contact; Returning Camper?? Contact us for your discount price!) If you are interested in these camps, please contact me with any questions or concerns!
Things you should know before camp:
-An email will be sent out to you on the Friday prior to your camp date with details and reminders.

-Arrival time on Monday is 10am.

-Fun Show starts around 1:30 - 2pm on Friday afternoon - Friends and family are welcome to come watch! Bring a lawn chair, sunscreen, bug spray, camera, and enjoy the show!

WHAT TO BRING:

-Warm Sleeping Bag and Pillow (any other night time necessities).
- Foam pad or air mattress - the hay loft floor can get a little uncomfy! = )

- Mosquito Repellent!!! For YOU and your HORSE (if bringing your own). The bugs CAN get bad out here so its best to be prepared. We will have some on supply as well.

-water bottle, flashlight, any other camping gear needed!

-clothes for schooling (if wanting to ride English breeches, jods, schooling tights, chaps, stirrup pants, or spandex pants are all fine) (if western, jeans are fine). You'll also need a hard soled shoe with a heel, preferably a pair of boots. They are available at Lammles or UFA with prices ranging from $40 to $300

-helmet (if you have one; if not, we have some helmets that are free to borrow, new helmets are found and Lammles or UFA)

- Swimming suit or t-shirt and shorts - (NO SWIMMING - We set up the sprinkler/slip n slide for some fun!)

-clothes you don't mind getting a little dirty!

-If bringing your own horse: saddle, saddle pad, bridle, brushes, hay.
References available upon request!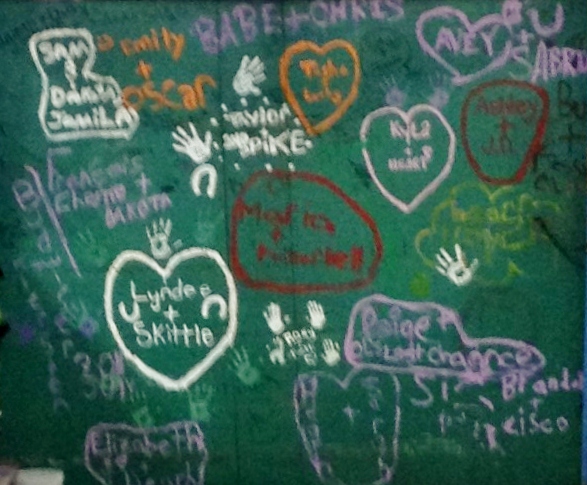 Payment and registration can be made online OR fill out the Registration form and waiver and send it along with a Money Order made out to "Elizabeth Kyler" and mail it to:
Elizabeth Kyler

RR # 2
Camrose, Alberta
T4V 2N1
ATTN: Camps
We do NOT except personal checks.
Registrations are due at least TWO WEEKS in advance to prepare for the camp...if you register after the two weeks in advance, late fees will apply!!
Money is non-refundable
(unless there is a cancellation on OUR part or otherwise specified by The Love Of A Horse)
Payment can be made online through online interact! Please send us an email for info on how to do this!
Here is our online camp registration form!! - Please note that we will need payment to hold your spot! We will also need a few more questions answered on the first day of camp as well as a WAIVER signed by PARENT/GUARDIAN. If Parent/Guardian cannot be in attendance to drop of their child, please contact us for the waiver/forms. They can then be signed and mailed or sent to camp with child. Thank you!